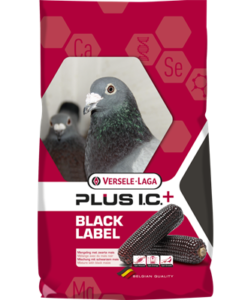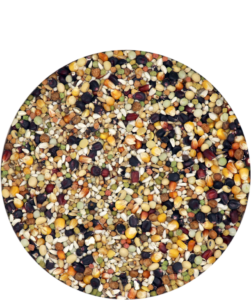 Versele-Laga Champion Plus I.C. Black Label
Pigeon Mix
A complete racing pigeon feed enriched with the special Immunity Concept+ racing pellet to provide extra energy during flight. Enriched with black maize, a rich source of antioxidants responsible for muscle protection, less muscle cell damage, and more endurance.
| Product # | Size | Form |
| --- | --- | --- |
| 84090244 | 44 lbs. | Seed & Grain Blend |
Ingredients
Maize, Black Maize, Dari, Safflower, Peas, Toasted Soya Beans, Vitamin-Mineral Pellet (Soya, Maize, Carrots, Peas, Adzuki Beans, Cereal Fibres, Berries, Cranberry, Elderberry, Minerals, Vegetable Oil, Mannan Oligosaccharides, Marigold, Lecithin, Grape Seed), Milo, Peeled Oats, Peeled Barley, Mung Beans, Peeled Sunflower, Rapeseed, Linseed, Thistle Seed, Canary Seed, Yellow Millet, Buckwheat. Vitamin A, Vitamin D3, Vitamin E, Vitamin C, Ferrous Sulphate Monohydrate, Calcium Iodate Anhydrous, Cupric Sulphate Pentahydrate, Manganous Oxide, Zinc Oxide, Sodium Selenite,  Organic form of Selenium (produced by Saccharomyces Cerevisiae).
Guaranteed Analysis
| | |
| --- | --- |
| Crude Protein | – not less than 14.0% |
| Crude Fat | – not less than 10.0% |
| Crude Fiber | – not more than 6.25% |
| Ash | – not more than 2.5% |
Feeding Directions
Feed continuously to racing pigeons. Keep feeders full and clean feeders frequently. Provide oyster shell or grit for added calcium supplementation.
Provide clean, fresh drinking water at all times. Store in a cool, dry, ventilated location away from rodents and insects. Do not feed if moldy, spoiled, insect/rodent infested, or if feed has an uncharacteristic odor or appearance, as it may cause illness or death.