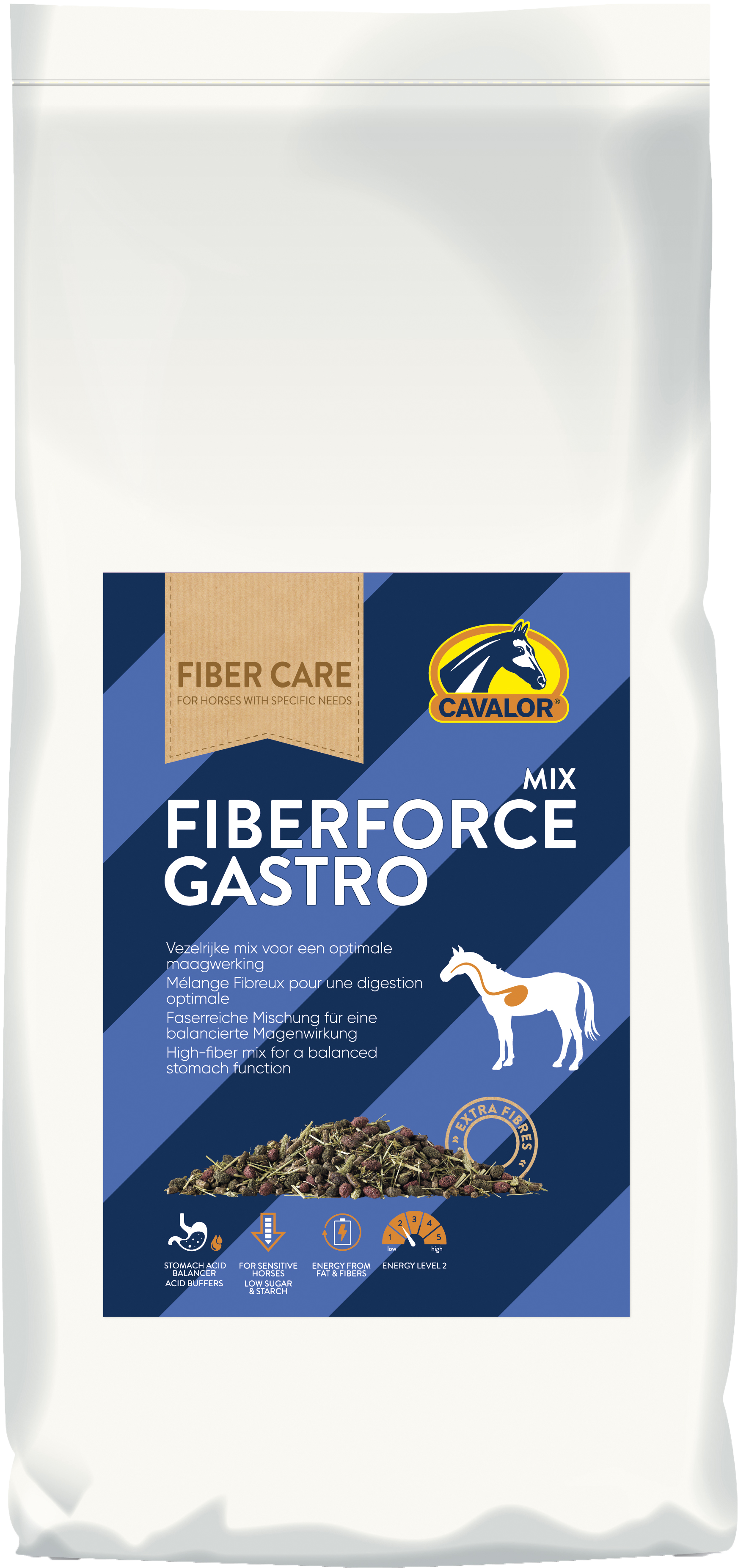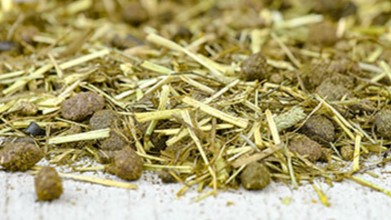 Cavalor FiberForce Gastro
Cavalor FiberForce Gastro is a high-fiber mix for healthy stomach function. It's high-fiber composition includes a mix of lucerne and teff pellets, beet pulp, and 8% timothy stalks, ideal for stimulating saliva production and neutralising stomach acid. The combination of herbs protects the stomach lining against irritation and helps to maintain a neutral pH value in the stomach.
Cavalor FiberForce Gastro is low in starch and sugar to keep glucose and insulin levels in balance. Ideal for horses with stomach problems. Also contains tasty fenugreek to stimulate the appetite. Its extruded cereals ensure good digestion – no whole grains.
Benefits include:
High in fiber for balanced stomach function

Enriched with acid buffers

Low in starch and sugar – contains fenugreek

Energy from fats and fibers
| Product # | Size | Form |
| --- | --- | --- |
| 49030233 | 33 lbs. | Multi-form |
Ingredients
Linseed Husks, Alfalfa Pellet, Sunflower Seed Meal, Timothy, Spelt Hulls, Oat Hulls, Soya Oil, Teff Pellets, Peas, Maerl (2%), Beet Molasses, Linseed, Dried Beet Pulp, Herbs, Monocalcium Phosphate, Sodium Chloride, Chestnut Extract, Coconut Fat, Fenugreek, Calcium Magnesium Carbonate, Fructo-Oligosaccharides.
Guaranteed Analysis
| | |
| --- | --- |
| Crude Protein | – not less than 12.5% |
| Crude Fat | – not less than 7.0% |
| Crude Fiber | – not more than 25.0% |
Feeding Directions
Quantity per horse, per day, per 220 lbs live body weight: min 1.1 lbs – max 2.2 lbs. In addition to concentrate feeding, always feed a minimum of 16.5 lbs of forage.  (These feed recommendations are intended as a guideline only. You may need to adjust the feeding rates bases on the condition of the individual horse being fed.)
Divide the concentrate feed over several portions per day, preferably after feeding roughage.
Provide clean, fresh drinking water at all times. Store in a cool, dry, ventilated location away from rodents and insects. Do not feed if moldy, spoiled, insect/rodent infested, or if feed has an uncharacteristic odor or appearance, as it may cause illness or death.
WARNING! Do not feed to sheep. This feed contains added copper at levels that may be toxic if consumed by sheep.
Looking for more info on horse care?