Testimonials
From the best customers in the business!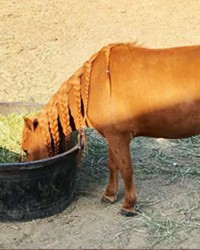 Meet Chili, my adorable 27 year old miniature horse. Chili is missing approximately four back molars and is unable to get the full nutrients needed from hay any longer. Although he receives hay for forage, he was dropping weight and looking noticeably unhealthy as he wasn't receiving all the nutrition that a senior horse needs.
Once I added Integrity Senior feed (wet with no molasses) to his diet, I really started to see a positive difference in his weight and appearance. Chili has greatly benefitted from Integrity products and I thank you!
– Ashley Lavelle Hoagland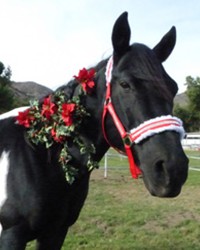 Here is my American Paint Horse, Spaded Ace, nicknamed "Suds". We have been feeding Integrity Senior-no molasses for the past year and he is doing so well on it. Before, I had problems adjusting his food to stabilize his weight. My vet, Dr. Max Wilcox, recommended your product.
After looking at other products of similar nature, Integrity just looked like the real thing. Not processed, just the real stuff.
Suds enjoys it to say the least! It is his go-to when offered his carrots, Bermuda, and Integrity. Everything about him is healthier and everyone comments on the shine of his coat. Thank you for creating such an ideal product!
– Cassie Brunker – Hazy Meadow, Lakeside, CA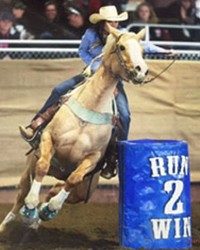 I found Integrity Horse Feed two years ago and will never switch to any other grain again! There's been a huge difference in my horses' overall health. They are showing dapples through their winter coats, their manes and tails are growing significantly, and they are holding weight very well. Their performance has improved without getting hot.
My horse JR Chickadee Tiger, "Fortune," clocked her personal best of 17.460 seconds on a standard size barrel pattern while being on Integrity Performance. I have never had a feed before that showed how well it works both inside and out on my horses. Before Integrity I fed [another brand], and the difference in my horses is very noticeable. I am hooked!
– Brianna Wright – El Dorado, CA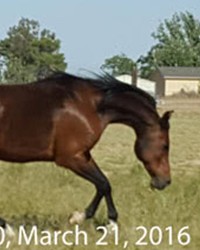 I've been feeding Performance 606 for about 15 years now and have turned many people onto it. I have been breeding Arabians for 25 years and love what this has done for my horses without making them hot or crazy.
Here are some pictures of a 14 year old Arabian mare that I recently rescued. I started her on two pounds of Performance 606 daily, and I haven't had her 60 days yet, but want you to see the change in her weight and coat condition. All of this was with just hay replacer pellets, 606, and a bit of exercise. Thank you for a great product.
– Christine Coppini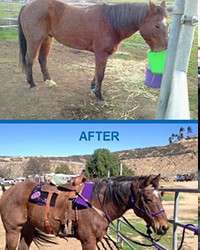 Celtic Cash came to me in January 2015. He was extremely sick and underweight with eye, skin, and hoof issues. He wouldn't eat when I got him due to his teeth, so I put him on Integrity with no molasses and the changes started to happen. Within a week he would meet me at the gate when I got there and even kind of smile. I ended up loving and caring for him and he did the same for me. He threw me in July and I was knocked out for four hours and had a brain bleed. When I returned after spending two days in the hospital, he was waiting for me at the gate. He even laid his head on my shoulders and put his full weight there for like 15 minutes. When I got hurt I also found out that I have cancer. He has been there with me through everything.
Everyone said I was crazy to still have him, but he didn't give up on me and I was surly not giving up on him. I love this horse more than I can put into words and I am thankful everyday he's in my life. Thanks to Integrity, he's got his pep back and is keeping weight on with a nice coat and no issues digestion or anything. You guys are awesome and I'll never feed him anything else besides hay.
– Dannette "Dani" Pollard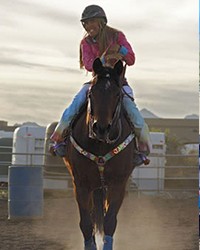 My daughter Lisa is 18 years old. She was born with cerebral palsy and cannot walk, but she learned to ride and discovered her passion for horses. She bought her first horse at age 10 from money she had saved, and now owns two horses, one of which is pregnant. Lisa considers her horses her legs. She knows what a difference a horse can make in the life of a challenged person, so she started a therapeutic riding program for other special needs people called HoofBeats from Heaven, which hosts annual Exceptional Rodeos.
When Lisa is not riding her big bay gelding Walter, he ponies behind her tankchair and does his job in the therapeutic riding program. Lisa enjoys doing gymkhanas and barrels and has won our annual Parade three years in a row, each year with a different horse. We have been supplementing with Integrity since Lisa got her first horse in 2007, and have used Integrity Senior, Integrity Lite, and currently Integrity Timothy.
We love all the Integrity products. They help our horses stay healthy and happy.
– Maria Boody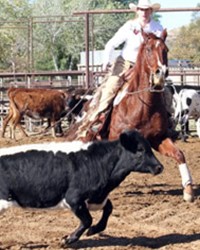 My horses have been "powered by Integrity Feeds" for several years now. I have horses in competition and a senior horse (29 yrs strong) that thrives on Integrity Feed Adult/Senior. I am a Non-Pro rider and my horse Champ and I compete in several different venues such as Extreme Cowboy Racing, Ranch Versatility, Reined Cowhorse, and Ranch Sorting. Last year, my horse Champ and I competed in the Extreme Cowboy Race at the Equine Affaire in Pomona, CA, placing 2nd in the first night, and placing in the Top 10 overall.
Champ is known for his "lion heart" because he is confident and bold.
One of the great things about Integrity is that it doesn't get a horse "hot". This is very important because I need Champ to be focused and fast. Integrity gives him the vitamins and minerals he needs to be competitive without adding excess energy. He can be a picky eater, but he always dives into the bucket when I feed him his Integrity! My senior horse thrives on Integrity Adult/Senior and Ace-Hi pellets. He can be a hard keeper, but with Integrity and Ace-Hi pellets, he is keeping his weight on and his coat looks great. I highly recommend these products for all ages and uses of horses!
– Corinne Lindquist
We used to feed another brand of feed, but started feeding Integrity Adult/Senior about 7 years ago. In the 23 years I have been here, we had 3 horses develop Cushing's as they got older. When I went to a feed seminar Integrity put on at Elston's here in Ramona, I realized the carbs in our old feed actually made horses more prone to Cushing's.
We immediately switched the horses to Integrity. We have had less colic, no Cushing's, less founder, the horses are not hot and it has really worked well for our horses. We currently have a horse with advanced Squamous Cell Carcinoma that has metastasized and he is on limited time now but the low starch in the Integrity has worked very well for him and he actually looks good for being as sick as he is. I highly recommend this feed when I talk to people.
– Rhonda Dunn – Ramona, CA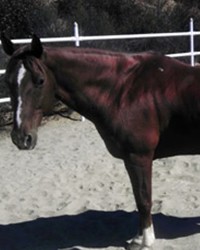 We met you at the Banning Stagecoach Days. I would like to share a picture of Wyatt, a 15-year-old Quarter Horse. Wyatt has been on Integrity for about a year and a half. When fed, he smashes his face into it and won't stop till it's gone, not kidding!
His overall health is noticeable. He has filled in nicely body-wise and his coat has improved. Wyatt is looking much better than before we got him started on Integrity with molasses. He will be eating it 'till the day he moves on to horse heaven! Thanks.
– Dennis and Joan Perucca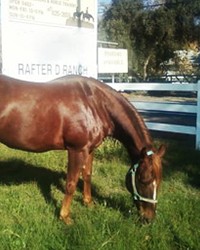 I would like to share this photo of my daughter's barrel horse, Water Proof Chex. She is 3 ½ months pregnant and is currently being fed Integrity Low Starch. Look at that shine on her coat! She is happy, bright eyed, energetic, and beautiful! Thank you for offering such a great low starch option for a feed supplement. The feed I had been using is no longer available, and I was thrilled to find your product up at the Horse Expo in Sacramento.
– Judy Pence – Northern California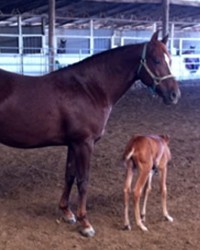 Here is my absolutely beautiful foal, and look at what excellent condition momma is in! Thank you so much for such great products and your feeding recommendations. Per your recommendation, Chex (mom) was fed the Integrity Growth up to the tenth month of pregnancy. During the final 60 days of pregnancy she was fed a 50/50 combination of Integrity Growth and mare foal. She will continue on that for the next 60 days.
Again, thank you and it was sure nice seeing you all at Horse Expo again! In the first photo the foal is minutes old. The second photo is just shy of 12 hours.
– Judy Pence – Northern California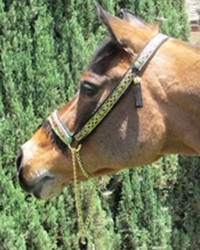 We spoke at your booth at the Equine Expo last weekend. I just wanted to send in these pictures of my 31 year old Arabian gelding and say how happy I am with your products.
Desert Journey is a 31 year old gelding who has Cushings, a thyroid problem, and is insulin resistant. Finding feed for him is a challenge because we have to be very careful about his sugar intake. He is not able to eat hay real well at his age, but still gets some orchard because he gets depressed if he can't try and chew his hay.
Due to this he gets timothy pellets and Integrity Lite with no molasses. The Integrity provides him the much needed nutrients that help keep his coat beautiful and, more importantly, to maintain his weight. When Desert Journey doesn't get his 4 lbs. of Integrity he immediately starts to lose weight. As a bonus, the feed tastes so good that he will eat his medicine in it as well. Thank you for making such a stellar product that has allowed me to keep my best friend in top condition. Have a great day,
– Sara & Journey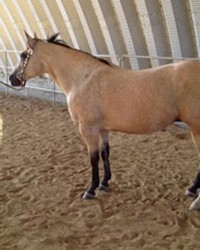 My 22 year old AQHA mare that has been on Integrity Senior no molasses for the last 5 years. I used to have her on a high-end commercial feed with numerous supplements for her coat and fiber and it was impossible to keep her in top form. Now all she gets is Integrity Senior no molasses and she keeps amazing. I had tried other feeds in the past and even though they stated low starch my mare always had problems with the molasses in the formula. Thank you so much Stacy Kuhns for updating me on your amazing feed products.
This stuff is hands down the best available. I will never feed anything else and I promote it as much as I can! Thank you for making my princess look amazing at 22!!!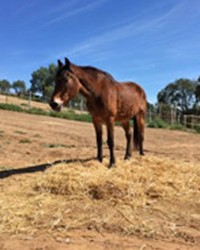 My 29 year old Morgan mare Prophecy does wonderfully on Integrity Low Starch Senior! Being able to provide a low-sugar diet is important to horse health, and at 29 she is full of energy, at a great weight, has a beautiful coat, and still loves to go on trail rides and teach kids to ride. Integrity Low Starch Senior is a great feed that I have used for many years and will continue to do so for all of my horses! It's especially wonderful as we do not have to worry about our insulin resistant mare, Windy, eating the other horses' grain in the paddock, or accidentally getting the wrong feed—everyone gets Integrity Low Starch Senior!
– Sara Rose
I own a boarding facility in Winchester, CA. A lot of horses come to me underweight and I always recommend Integrity senior feed. It has never let me down! The horses look better in no time. It also does not make the horses hot and it leaves there coat gorgeous with just Senior and hay alone. A lot of people will try other products for different reasons but what they don't know is this product is everything in one. I have never had a horse turn it down. I barrel race and run gymkhana and I'm almost always picking up checks on just that alone.
I also have mares and foals here all the time and always recommend Integrity Mare and Foal. It keeps my mares healthy and lactating great. It also keeps the foals healthy with just the right amount of fat and protein. I, again, have never had a mare or foal turn it down. I hope you all give it a try.
– Sarah Adams
---
I own a 15 year old Peruvian Paso Stallion.  When I purchased him last year he needed to gain weight.  My trainer had me trying more food, like soybean meal. None of these things really did anything except make him cranky.  We decided last fall to try Integrity Senior with no molasses as molasses makes our horses hot.
I added a scoop of Integrity to his evening meal and he has blossomed.  My trainer says he looks better than he did when he was competing in the show ring.  He has done so well that we now have most of our other Peruvians at the stable on Integrity too.  He has filled out, his coat is looking so nice, and also the added food has not affected his personality in any way.  He loves it and sometimes we just put some in our hands and feed it to him and his young son as a treat!
– Linda West
---
We own two trail horses Kal, an older Appendix and avid cribber, and Kody, a 12 year old Quarter Horse. They are free fed a mixture of Bermuda and Orchard and I had been giving them rice bran, and a mineral supplement to help maintain weight, especially on Kal. Both were very picky, usually leaving most of it then tipping it out, much to our dog's delight.
Tired of the waste I looked into different brands but most contained Alfalfa which gives our horses problems. Rather disheartened I made enquires at my local feed store to see if there was anything out there that would suit a couple of fussy horses. 'Integrity' was the reply. They recommended the Senior/Adult low starch with no molasses. I bought it, took it home, and have been feeding it for the last few months.
Not only do the horses love it but it has genuinely made a difference in them. Both are looking really good, the older horse especially has gained the necessary weight that I was hoping for and since they love the taste the days of waste are over! An added bonus for me is that in buying this excellent product I am supporting Star Milling Co. which is a local business.
– Janice, Lake Mathews
---
My horse has been on Integrity for over 10 years. He is turning 23 next month! I give him Integrity Senior/Adult low starch no molasses as part of his supplement regimen. He is in very good health and I still ride him in moderate work. Many of my friends have switched to Integrity and have had amazing results. The horses all love the taste.
Thanks, Star Milling Co.
– Christy Novak – Oxnard, CA
---
We have been using Integrity for nearly 2 years, this is the same amount of time that we've had horses.
When I first purchased my horse he was being fed some other products. I was told he was a "hard keeper," which is not accurate at all. He is maintaining a good weight with his feed of grass hay and Integrity Senior. The other products made him "hot"—certainly not what I needed as a new horse owner and novice rider.
I like your product because it supplements some of the nutrients they can't get from hay, and they like it! It also doesn't have a lot of added sugars.
– Debra Parkinson – Lake Arrowhead, CA
---
Integrity Senior fits the needs of my four horses. Three of them are senior, one of which has Cushing's. They are fed hay and Bermuda pellets mixed with a full scoop of Integrity twice a day. They go through 6 bags/month!
Three weeks ago I switched from Integrity to a cheaper brand to try to save money. BUT since then their manure has almost tripled in size!
The larger horses who eat more have a manure pile that is so big and dense that I can barely lift it with my rake. No kidding, the piles are HUGE and HEAVY. This is new. I started thinking and the only change was the switched from Integrity. As an avid dog enthusiast for more than 30 years, I know in dog stool that means more fillers.
Well, I'm no feed scientist but common sense tells me that the composition of the other feed must be significantly higher in filler and that's why they are pooping out onto the pasture which means the majority of my savings are going right through them. At least they absorb the Integrity! I'm switching back.
– Denise
---
I stopped by the Integrity booth at the Pomona Horse Expo and we talked about how good Integrity Senior is for the equine world!
I just want to thank you again for making such a great product. I've fed Integrity Senior to my Quarter Horses since the 1990's. My horses are fit, have great coats, are happy, and not in need of veterinary assistance other than the regular teeth floating and shots.
My last best friend lived up to 33 years and 10 months! Thank you for making such a fantastic product that has allowed me to keep my best friends in top condition.
– Elizabeth
---
I started using Integrity Senior no molasses about three years ago. What a complete difference in my horse's coat and hooves!
When I bought my horse Belgian Draft she had no shine to her coat, she was depressed, and her hooves were in bad shape. About a month after using Integrity Senior wow what a complete difference in my horse. I don't plan on changing her feed. I'm completely satisfied!
– Mike Machado – Shingle Springs, CA
---
Our 4 horses (3 mares between ages 15-25 & 6 year old gelding) have been fed Integrity for seven months. We are totally convinced that this feed is a great benefit to their overall health and condition. We researched the feed prior to changing over from a very popular pellet and we really like that it has no Alfalfa, does not contain high starch grains, or meat and bone meal. We feed it along with high quality Orchard Grass Hay and we feel confident that they are getting the balance of nutrition they need. All of our horses are happy and love meal time. We have and will continue to recommend Integrity Feed with full confidence.
– Brad and Kim Williams – Shingle Springs, CA
---
I want to tell you how happy I am with your Integrity Lite, Low Starch horse feed!
It is very important that I have a low sugar/starch feed for my IR horse and many, if not most, of the products out there are extremely high in starch and/or sugar. I have tested your product twice for starch and sugar levels, and I know of another person who has also tested it, and it has always come out with very low levels. I have done similar testing on other feeds that claim to be low starch only to find that the manufacturer claims were not consistent with the test data.
Your product is exactly what you claim to be, and as an added bonus all the horses really like the taste! Thank you for an excellent product.
– Paige M. – San Diego, CA
---
I am a local Dressage trainer in Flagstaff, Arizona. I have been using your Integrity low starch formula on my horses. It all started when one of my horses consistantly tied up after only 5 minutes of exercise. I was told he had EPSM which meant diet played a huge role in his issue. I had to find a supplement that would keep my horse conditioned for an active show life. Your product was mentioned to me by a local seller, so I decided to give it a try. I have been so impressed, I now recommend it to clients and friends.
– Catherine Brown – Flagstaff, AZ
---
Integrity has truly helped a horse I recently rescued named Hope. I am happy and excited to tell you the latest update on Hope and how Integrity has played a vital role in her recovery.

About seven weeks ago I rescued a horse from a woman who had way too many horses on her property. I immediately took in a TB mare that was in desperate need of nutrition. Hope was very skinny, missing patches of hair, covered in lice, her hooves were grown own out and she had diarrhea—she was miserable.
Once I got her home and settled, I started using about 2lbs of Integrity with her hay intake. I mixed a few electrolytes in the feed to help combat the dehydration since most of the water tanks in the previous facility were covered in algae. After the first 48 hours, her stool hardened to a perfect consistency, her bloat started going away, and a little more life returned to her eyes.
It's been about seven weeks now and you can see the difference in her skin, coat, hooves, and overall wellbeing. She's as lively as ever now and on a regular working routine. The hair has grown in where it was patchy and falling out. Lice are no longer an issue, and she nickers for her Integrity EVERY morning!
Hope is a very happy mare and I would like to thank an amazing product like Integrity to help get a horse back on track that desperately needed the nutrients rather quickly.
On another note, my QH Bailey has on Integrity for about five years now and has NEVER had any intestinal issues. His coat is SUPER shiny, and I am constantly getting compliments on how good he looks. Again, I want to give most the credit to a solid feed that will also benefit the average working horse. Thank you!
– Kristy Cary
My horse's name is Jacks Smooth Chic ("Jack"). He is a 12 year old, registered Quarter Horse gelding. He truly is a "Jack of all trades". We currently participate in Open Reining, Team Roping (we head), Team Sorting, Barrel Racing, and Rodeo Queen Competitions. For fun, Jack & I do very intense trail riding, cutting, and he can beautifully clear 3ft straight rails in the jumping arena.
I recently won the title of 2011 Miss Rodeo Hesperia on him. This requires us to ride in as many PRCA Rodeos in California as possible. We have ridden in about 15 rodeos and 6 parades. Every appearance we attend I am asked what I feed Jack! I simply answer, "Besides hay, he gets Integrity Adult/Senior everyday". I am constantly complemented on his bright shiny coat, long main & tail, & his flawless hoofs. My farrier was so impressed with Jacks healthy hoof growth that he put his own horses on Integrity!
Jack stays at an ideal weight no matter how hard he has rode. He has the strength and stamina to ride 20 miles without any signs of dehydration or tying up afterward. He is always motivated to get out and work but is never "hot" or out of control. I fed Jack Integrity for 3 years and he has never had colic or ulcers, even when travelling long distances in a trailer and spending weekends in unfamiliar places. He is the definition of "healthy as a horse".
I work at a feed store where I am faced with many other supplemental horse feeds to choose from, but I know the best ingredients and formulas are in Integrity. Many customers have met Jack and can't argue with the obvious results. Every day I share my success stories with customers, who turn into faithful Integrity users, along with all my horse friends who are hooked as well. I use Integrity horse feeds religiously and will continue to do so with future horses. Thank you for having such a wonderful product.
– Amy Nix – 2011 Miss Rodeo Hesperia
---
I have been in the horse industry for over ten years, primarily focusing on Working Cow horses, Reining and Roping horses. Not only do I have performance horses, but I also have an older horse, breeding mares and foals. While each of these horses has different needs, my nutrition goals for them are the same. I need my horses to:
Have a healthy immune system that endures all of the traveling, weather, and various other elements.
Have a healthy digestive system that maintains the stresses of training and performance and adjusts to feed changes at shows.
Maintain fitness for training and performance.
I have purchased numerous products over the years that swear to do this for my horses. At one time I was even mixing five different products in an attempt to reach my ultimate supplement! Then one day while at my local feed store, the bag of Integrity struck my eye. I was reading the list of ingredients and a few that caught my interest were bee pulp, flax seed, and probiotics. I decided to give it a try and it was one of the best decisions I ever made regarding my horses health. Within two weeks I began seeing results. Hair coats were shinier and my performance horses were looking fit and maintaining a steady weight. I have spent numerous years trying to find a product that offers my horses the benefits and results that Integrity does!
– Charles Stevens Performance Horses – Murrieta, CA
---
About two years ago I almost euthanized my horse. He was an extremely picky eater and only liked certain types of hays and bagged foods. Two years ago he started having colic on a regular basis. We tested him for everything, just short to taking him to Helen Woodward's for x-rays. My vet did not feel that he should be euthanized but also understood my frustration with a horse that would walk over to his hay and just stand and look at it. Even though he did not look like a typical ulcer horse, we decided to try a few tubes of Ulcer Guard and 12 hours later he was eating his hay. We then had to figure out what was causing his gastric ulcers. That is when the vet suggested Integrity Senior horse food. After one month of treating gastric ulcers and changing his feed, we re-did the G.I scope and found all the ulcers were gone. It has been two years and my horse has been 100% colic free- all thanks to Integrity.
– Melissa Ness – Ramona, CA
---
As the owner of Jamul Feed & Supply I have access to all feeds. I was feeding my horse Tiz Whiz Structure, but it was hard to get him to focus. I changed to Integrity Low Starch with Alfalfa and within 2 months I took him to Jingle Bell horse show in Del Mar Cali and Won Grand Champion Open Park. I recommend Integrity to everyone!
– Jamie La Fortune – Owner of Jamul Feed & Supply
---
At the beginning of this year, my Polish Arab, Zada, coliced for the first time in his life. He then proceeded to colic six more times in the next eight weeks. At the same time, he began to lose weight. He became listless and was indifferent to his feed, other horses and the people around him.
My vet suggested I take him to Chino Equine Clinic and have him tested completely. The doctor there did every kind of test and exam possible including blood panels, radiographs, ultrasounds, gastroscopy, and chemical panels. At the end of all the testing, the doctor said to me, "Tell me again why you brought this horse to me?" He is perfectly healthy according to all his tests. He's like a two-year old!
I couldn't believe it since the horse was skin and bones and looked like he was on his last legs. The Doctor said he felt Zada might be allergic to alfalfa. He said to take him off it and start feeding him timothy hay. This I did, but the horse continued to lose weight even on the timothy. In desperation, I tried numerous feed supplements. He would only take a bite or two and then quit eating. He seemed to be dying in front of me.
Then someone suggested I try feeding him beet pulp. I went to DaMoor's Feed in Glendale, CA, asked for beet pulp and told them my problem. One of their sales people suggested rather than beet pulp, I should try a product I had never heard of, Integrity Senior. She said it had no alfalfa and so I decided to give it a try. I would do anything to save my horse!
When I got home and fed the product to Zada, I was happily surprised to see that he ate every bit! It was the first feed he had eaten completely and I was thrilled. I continued to feed him two pounds of Integrity twice a day. He has been on the product for three months and he has put on weight and has returned to his old self. I firmly believe that Integrity Senior has not only helped him put on weight, but also stopped his declining health.
Thank you for your feed and thank you for saving Zada's life.
– Tom Pointer
---
I have used Integrity Senior on 2 of my horses, both very different personalities and builds. One horse is an 8 year-old extremely calm TB that has problems holding weight. The other is a 3 1/2 year-old Warmblood who has problems holding weight.
I give 1 big scoop of Integrity Senior to both horses once a day in combination with alfalfa and grass hay and the weight has stayed on! Neither one gets hot, and I do not have to soak the shredded beet pulp. I love the product and how affordable it is! Thank you!
– Jani Goins – Upland, CA
---
I've always had Papillon on Triple Crown until I recently introduced him to Integrity. He always strolls into his stall when he sees me coming with his nightly bucket. However, after I made the switch from Triple Crown to Integrity, Papillon switched from a casual stroll to an energetic trot into his stall to meet me! My stall neighbor laughed when I explained that he really likes the new feed.
– Pam Cox
---
I have a 33 year old registered Quarter Horse. I retired him several years ago. He couldn't seem to keep weight on and his coat was dull. I tried to help him gain weight with the senior food. He did not gain weight and his coat still looked dull. A friend recommended Integrity Adult/Senior food. After just about three weeks Super had gained weight and his coat was bright again. I then started giving Integrity Adult/Senior to my 19 year old Quarter Horse, Jake and his 26 year old pasture mate Solo. They all look great and will continue with this feeding plan.
– Sue Wilson – San Diego, CA
---
My 29 year old Arabian mare stopped eating the senior feed that I had been giving her for many years. I called my Vet because I was extremely concerned about her. She had lost weight and was not herself. He checked her teeth and did a complete blood work up but everything came back totally normal. He asked what I was feeding her, and I showed him. He told me that your Integrity Senior was far superior to what I had. I immediately went to my feed store in town and picked up a bag. Shanarra smelled your product and couldn't stop eating. It has been three months. Shanarra has gained back the weight she had lost and she is back to her old self. Thank you.
– Diane Hill – Norco, CA
---
I bought a 16 year-old mare that had been treated badly. She was underweight, her feet had not been taken care of, and she was just not a very pretty mare. I started her right away on Integrity Senior and a mineral supplement. In six months, my ugly duckling grew into a lovely swan that no one recognized. I have had three people try to buy her from me. She was a dark, dull bay. She's now a really pretty bay, with lots of dapples. I believe your product has helped bring her to a good weight and good health.
– Silver
Winning Horses
Powered By Integrity
Let's give a round of applause for the winning horses and owners below! Is your performance horse powered by Integrity? Just let us know and we'll brag about you too.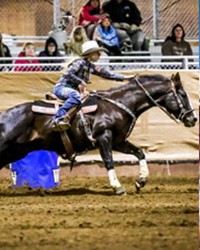 Dance N Spin A Lena, "Spin"
owned by Lea Orsburn
2016 CCPRA Reserve Year End Champion
2016 Run2Win Open Race 1D Champion
2016 Brn4d State Champion
2016 Rena Xtreme 3rd Fastest time over the 3 days with 450+ entries each day
2016 MVP Champion
Set Arena Record at Yreka CCPRA
2016 American Semi Finals Qualifier
2015 American Semi Finals Qualifier
2015 Rock N Roll Champion
2015 WCBRA Finals Round 2 Champion
CCPRA Year End, Average and Rookie of the Year Champion
2015 Brn4d World Champion
2015 Brn4d Reserve 1D Champion
2014 Turning 3 Future So Bright Champion
2014 Sherry Cervi 1D Champion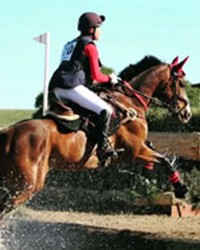 Spurs and Stilettos, "Stellana"
owned by Faith Dalessandro
2016 – 1st Place Eventing – Woodside Horse Park
2016 – 1st Place Eventing – Fresno County Horse Park
2016 – 2nd Place Horse Management & Team – Pony Club Evening Championships
2013 – 4th Place – USEA Championships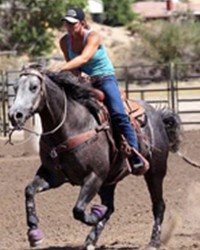 MR Playgun Two You, "Cooper"
owned by Samantha Call
2016 – Champion Header – AVYRA Dummy Roping
2015 – Champion – Mojave River Gymkhana Series
2015 – 3rd Place – Mojave River Trail Days
Multiple Top Tens in Rach Sorting
1st in 3D at her first barrel race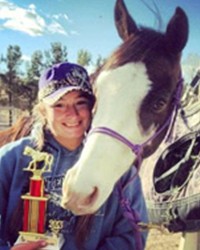 Dawns Most Precious Gift, "Xena"
owned by Samantha Call
2015 – 3rd Place – Mojave River Gymkhana Series
2013 – Champion Saddle Winner – Gymkhana 18-29 division
2011 – 2012 – 3rd Place & Tack Set Winner – Gymkhana 18-29 division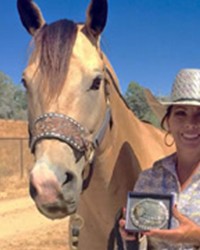 C1 Skeeter Spark, "Skeeter"
owned by Cheryl Wright
2016 – Top 5 Ranch Horse Pleasure Open – Gold n Grand Summer
2016 – Top 5 Ranch Horse Halter Select – Gold n Grand Summer
2016 – Reserve Champion Ranch Horse Pleasure Select – Gold n Grand Summer
2016 – Champion Novice Division, Gorgasser Ranch – GSVRHA
2016 – Reserve Champion Novice Division, Ferguson Ranch – GSVRHA
2016 – Champion Novice Division, Sparrowk Ranch – GSVRHA
2016 – Top 5 Buckle Ranch Horse Trail – Gold n Grand Spring
2015 – Reserve Champion Ranch Horse Pleasure – Gold n Grand
2015 – Open All Breed Ranch Horse Pleasure Champion – Paint O Rama
2015 – Top Ten Year End Points, National Qualifier Novice Division – WSVRHA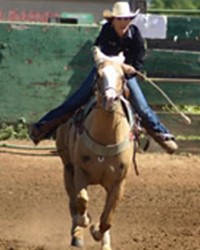 JR Chickadee Tiger, "Fortune"
owned by Brianna Wright
016 – 5th Place 1D – Clements Buckaroo Barrel Race
2016 – 7th Place 1D – Clements Buckaroo Barrel Race
2016 – 2D Time (300+ Entries) – Lita Scott Barrel Race
2016 – Champion 1D Saddle Winner – Ed Hughes Memorial Arena
Personal Best Time = 17.460
2016 – 1st Place 2D – Ed Hughes Memorial Arena
2016 – 2nd Place 1D – Ed Hughes Memorial Arena
2016 – 2nd Place 2D – Ed Hughes Memorial Arena
2015 – Average Champion 2D – Wine Country Classic
2015 – Buckle Champion – Run 2 Win Winter Series
2015 – Champion 2D – Ed Hugh Memorial Arena
2015 – Total Earnings over $3,000
Cut N Chex, "CC"
owned by Judy Pence
"This horse is one to watch! It's only eaten Integrity its whole life!"
Started on

 

Integrity Mare & Foal

 

in utero. Born June 2013.
2015 – Halter Champion – D'Alonzo Equestrian Center
2015 – Placings in Open Halter, Yearling, Non-Color, Stock Horse, Ranch H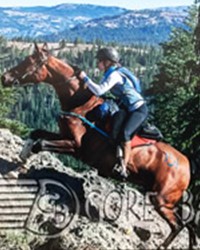 Keepsake's Diamond Rio, "Rio"
owned by Natalie Drost
2016 – 1st Place – Nevada Derby II 50 Mile
2015 – Race Completion 21 Hours – Tevis Cup 100 Mile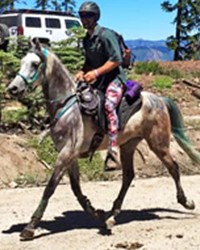 LC Andes, "Andes"
owned by Natalie Drost
2016 – 2nd Place – Weaverville Express 75 Mile
2016 – High Vet Score – Weaverville Express 75 Mile
2016 – Race Completion 21 Hours – Tevis Cup 100 Mile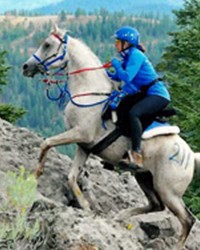 MG Sedona, "Sedona"
owned by Janet Worts
1,740 AERC career endurance miles
6 AERC Best Conditions
26 AERC Top 10s
2015 & 2016 – Endurance Champion – AHA
2015 & 2016 – Best Condition – AHA
2015 – Race Completion – Tevis Cup 100 Mile
Looking for our products?