Cool kinds
of chicken combs 
What is that on my chicken's head?
A chicken's comb is the fleshy red crest that grows on top of its head. Both males (roosters) and females (hens) have combs, but they are typically larger and more pronounced on males.
What is the purpose of having a comb?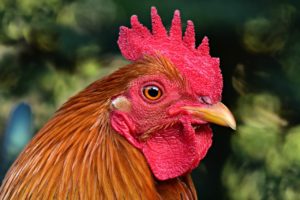 Chicken's use their comb to regulate body temperature. Since chickens do not sweat, they use the parts of their bodies not covered in feathers to dissipate heat. The size and shape of a chicken's comb is closely linked to where their breed originated. Chicken breeds originating from hot climates will have larger combs, providing more surface area to dissipate heat. Chicken breeds from cold climates will have smaller combs, reducing the risk of frostbite.
Combs are also thought to aid in attracting mates. A suitor with a big, bright red, flashy comb is more appealing to the ladies, as it signals health and vitality. There is also a correlation between the color and size of a comb and testosterone levels.
A chicken's comb type is determined by two different genes. One is the rose comb gene, the other is the pea comb gene. Every type of comb is a result of different combinations of these two genes. Unofficially, there are nine comb types as follows:
Buttercup Comb
Looking for more information?