Electrolytes for Chickens:
Immune support you can make at home
Electrolytes for Chickens: Immune Support to Make at Home
Chickens are not well equipped to handle high temperatures. During hot weather, they are vulnerable to heat stress, heat exhaustion, heat stroke, and are even at risk of death. They cannot sweat to cool themselves. They expel heat by panting and holding their wings out to increase air flow, which are not very effective during hot summers and heat waves. One strategy you can use to help your chickens stay healthy during heat waves is giving them electrolytes.
Electrolytes can be used to support your entire flock, or to treat a chicken in the sick ward. Electrolytes replenish the nutrients and minerals lost under extreme heat and stress. They boost immunity and support kidney and respiratory functions. Electrolytes are also useful during times of stress, flock illness, or traveling. They give your chickens a little pick me up whenever needed.
Electrolytes are easy to mix at home with items you already have in the kitchen. The strength of the mixture will depend on its intended use. Dilute the mixture when giving electrolytes for general support, and give a stronger mixture to a sick bird needing more health care.
Make sure to only give your chickens electrolytes as needed, and only for a few days at a time. Make sure to have fresh, regular water also available at all times. Too much salt can be detrimental to your chicken's health.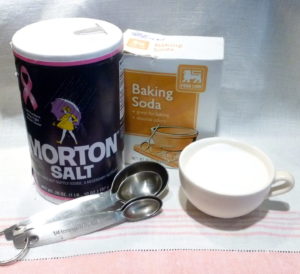 Homemade Electrolyte Recipe for Chickens
1 gallon water
1 tablespoon sugar
1 tablespoon baking soda
1 teaspoon salt
Mix above ingredients together until dissolved.
Want to learn more? Visit our Poultry Care Corner for more helpful information on caring for your flock.
Looking for more information?