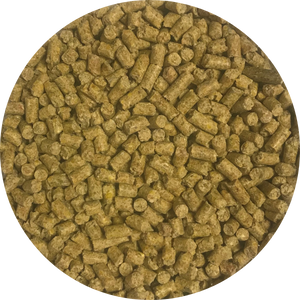 Star Milling Flock Builder
Flock Builder is a complete diet for a range of different fowl. It conveniently allows you to use a single feed for your entire flock, including laying chickens, broiler chickens, ducks, geese, pheasants, and turkeys that are at least 8 weeks old.
A single feed for your entire flock
Supports feather growth and egg shell quality
20% protein
Digestive enzymes for gut health and fish meal for omegas
Made in a family-owned, medication/drug-free feed mill
| Product # | Size | Form |
| --- | --- | --- |
| 39910250 | 50 lbs. | Pellet |
Ingredients
Ground Yellow Corn, Soybean Meal, Wheat Bran, Wheat Flour, Calcium Carbonate, Mono-Dicalcium Phosphate, Fish Meal, Suncured Alfalfa Meal, Canola Oil, Dried Distillers Corn Solubles with Grains, Diatomaceous Earth, Salt (Sodium Chloride), Mannan Oligosaccharides, Choline Chloride, Zinc Oxide, Manganous Oxide, Ferrous Sulfate, Propionic Acid (a preservative), Sulfur, Vitamin E Supplement, Vitamin A Supplement, Zinc Proteinate, Manganese Proteinate, Copper Proteinate, Cobalt Proteinate, Mannan Oligosaccharides, Lactobacillus acidophilus, Lactobacillus casei, Bifido bacterium thermophilum, Enterococcus faecium, Vitamin D3 Supplement, Calcium Pantothenic Acid, Riboflavin Supplement, Niacin Supplement, Vitamin K(Menadione Dimethylpyrimidinol Bisulfite), Thiamine Mononitrate, Pyridoxine Hydrochloride, Copper Sulfate, Ethylenediamine Dihydriodide, Folic Acid, Vitamin B12 Supplement, Biotin Supplement, Sodium Selenite (Selenium). 
Guaranteed Analysis
| | |
| --- | --- |
| Crude Protein | – not less than 20.0% |
| Crude Fat | – not less than 4.0% |
| Crude Fiber | – not more than 4.10% |
Feeding Directions
Multi-purpose pelleted diet for flocks including Laying Chickens, Broiler Chickens, Ducks, Geese, Pheasants and Turkeys 8 weeks of age and older. Added proteinated minerals to help support feather growth and egg shell quality. Provide access to grit and/or oyster shell for added calcium for laying birds. For young birds less than 8 weeks of age consider using Chick Starter Mash or Game Bird/Turkey Starter Crumbles. Provide clean, fresh drinking water at all times. Store in a cool, dry, ventilated location away from rodents and insects. Do not feed if moldy, spoiled, insect/rodent infested or has an uncharacteristic odor or appearance as it may cause illness or death.
WARNING! Do not feed to Sheep. This feed contains added copper at levels that may be toxic if consumed by sheep.
Looking for more information?