Eggs with Blood Spots
Are they safe to eat?
Are Eggs with Blood Spots Safe to Eat?
Blood spots in eggs are exactly that; tiny spots of red blood that you'll see when you crack open a fresh egg.  All eggs, fertilized or not, contain tiny blood vessels that anchor the yolk inside the egg.  In a fertilized and incubated egg, those blood vessels will deliver nutrients to a growing chick embryo.  There is common misconception that seeing a blood spot in the egg means it is fertilized.  This is not true.  Both fertilized and unfertilized eggs can have blood spots.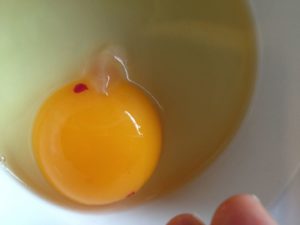 Blood spots occur when one of those tiny blood vessels is broken during the laying process.  This is most commonly due to a hen being startled while laying her daily egg.
Blood spots are fairly common, and not cause for concern.  They are perfectly safe to eat, although you may want to scoop the discolored bit out with a spoon for aesthetic purposes.
If you notice quite a bit of blood, or blood spots accompanied with other unusual egg characteristics, you may want to evaluate your hen's health.  Infrequent odd eggs are normal, but ongoing odd eggs can be an indicator of disease or nutritional deficiency.
If you are actively monitoring your chickens' health, and feeding them a balanced feed like Ace Hi 20% Hi Protein Lay Pellets or Kelley's All Purpose Lay Crumble, designed specifically to meet the needs of egg laying hens, then you should have a happy flock!